A partnership between PAREF Southcrest School and Rosedale International Education reinforces a commitment to transformative education, diversity and global citizenship, with the Ontario Secondary School Diploma at the core.
Rosedale International Education and PAREF Southcrest School have signed a partnership to offer the Rosedale Global High School Program to PAREF Southcrest students in the Philippines. PAREF Southcrest School is our first Rosedale Global High School partner school in the Philippines, and we are proud to work with them alongside PAREF (Parents for Education Foundation) Education Group. PAREF Southcrest School is one of sixteen schools within the PAREF Education Group, a non-profit aimed at providing holistic education by combining high academic standards and character formation and has graduated more than 8,000 students in its four-decade-long history. 
"This partnership reflects our ongoing commitment to connecting learners with real-world application and innovation in a forward-thinking, rigorous, and collaborative education environment. We're proud to support PAREF Southcrest School with our differentiated learning solution that offers choice in how students learn, develop competencies, and demonstrate their achievements, and look forward to seeing these students realize their full potential," says Michelle Cui, Founder and CEO of Rosedale International Education. 
A Memorandum of Understanding (MoU) was signed in Cebu, Philippines, in late 2022 with the program beginning in September 2023 and the first cohort eligible for graduation in June 2024. Upon successful completion at this Rosedale Global High School partner school, students will be granted a dual diploma, including a Philippines High School Diploma and Canadian Ontario Secondary School Diploma, allowing graduates the flexibility to apply to higher education institutions around the world. Together, we will expand access to world-renowned Canadian education that empowers students through asset-based learning to design their future and reach their full potential. 
Rosedale International Education operates Rosedale Global High School, and all Rosedale Global High School students across our 17-country partner school network attend the annual Global Student Success Forum, which connects them to more than 35 Global Top 100 Universities at our Elite University Student Recruitment Fair, providing opportunities to meet one-to-one with university admissions and recruitment staff, attend student workshops and Q&A sessions, and become well-prepared for the transition from high school to higher education. 
"Given the drive of PAREF Southcrest to offer our students a world-class education, and become global citizens, we are honored to be the first school in the Philippines to partner with Rosedale Global High School and offer the Ontario Secondary School Diploma. Giving our students the option to have an international diploma like the OSSD, which is recognized by the top universities in the world gives them the chance to have better future career opportunities in any part of the globe, to broaden their perspectives and world views, to create linkages and interact with different cultures, and have a massive international alumni network. This partnership shows a lot of promise in making young people all over the world work together as a catalyst for change and for making the world better," says Emylou C. Visaya, Executive Director, PAREF Southcrest School. 
Daniel Moran, Chairman of PAREF Education Group says "Academic excellence is a key pillar in the PAREF mission. I would like to congratulate PAREF Southcrest leadership for this wonderful initiative of offering a Canadian international curriculum in the Philippines which can benefit our students and facilitate their academic success. This partnership of PAREF with Rosedale Global High School in offering a dual PAREF-OSSD diploma will help improve our academic standards by making them truly world-class, and provide opportunities for our PAREF students and faculty. Exposing PAREF to the global network of OSSD will be very motivational and bring confidence to our students and teachers. We hope to contribute to this international-global tie-up with the OSSD network and we look forward to a very successful partnership with Rosedale Global High School."
Rosedale International Education delivers school learning solutions in K-12 transformative global education. With a robust infrastructure with an advanced digital learning platform, world-renowned curriculum and differentiated instructional resources, and comprehensive academic integrity and quality assurance services, all international partner schools are equipped to offer a modern and global high school program that implements a systematic Transformative Approach to Learning that supports key areas of learning for the twenty-first century: Transformative competency development; real-world application and innovation; global citizenship education; differentiated instruction and diverse evaluation; and the creation of a personalized learning path. Our well-structured education solutions interconnect with the support our international partner schools require to implement transformative, global education.
Learn more about our educational approach and explore our School Profile, which includes data on the global leading universities who offered admission to Rosedale Global High School students in 2022.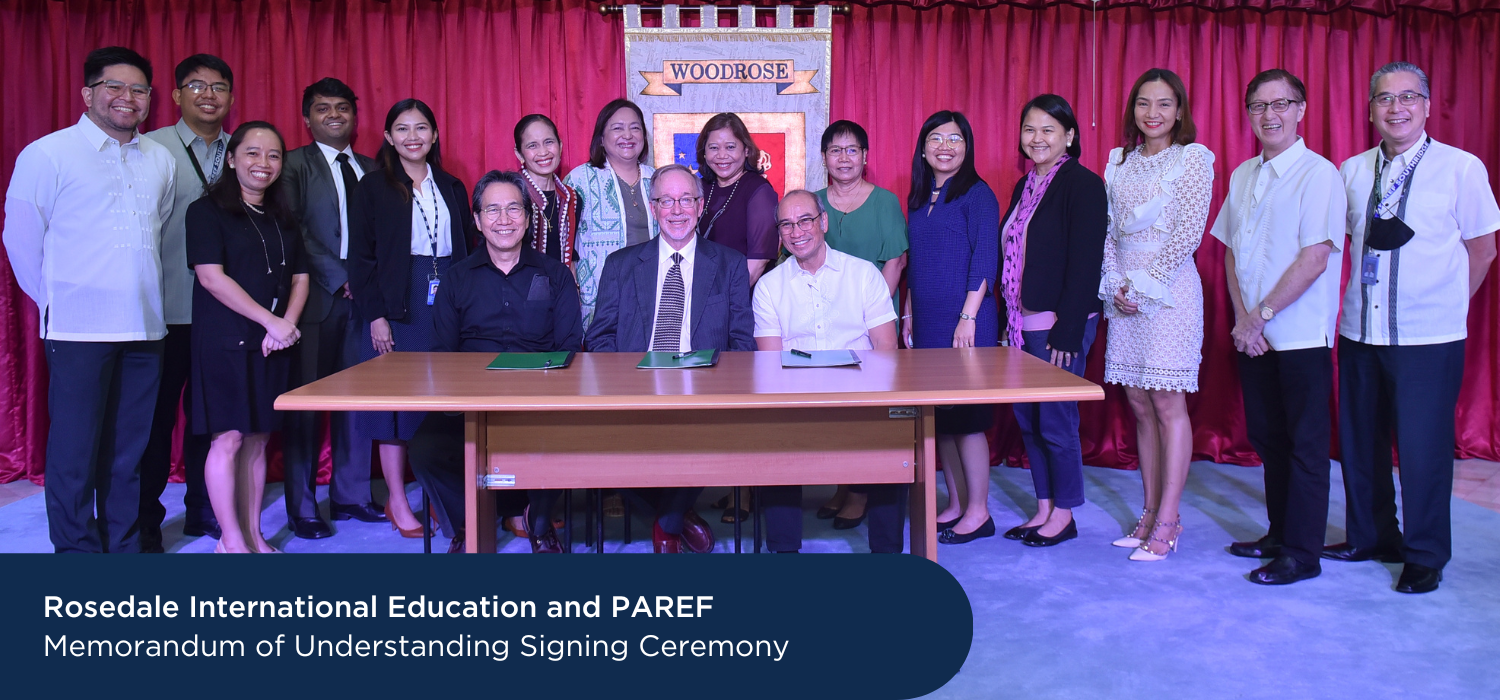 Photograph, as pictured standing left to right: Francis Lee, Head of Guidance Center, PAREF Southridge School; Edson Alquizalas, High School Principal, PAREF Southridge School; May Revecho, Level Council Coordinator, PAREF Southcrest School; Ralon Nazareth, Director of Global Education Partnerships, Rosedale International Education; Charlene Ferrer, Trade Commissioner, ICT & Creative Industries, Global Affairs Canada, Embassy of Canada to the Philippines; Elinor Dioko, Associate Director for Personal Formation, PAREF Woodrose School; Gina Rama, Executive Director, PAREF Woodrose School; Emylou Visaya, Executive Director, PAREF Southcrest School; Irene Barcelon, Director for Academic Standards, PAREF; Queenie Tan, Associate Director for Personal Formation, PAREF Southcrest School; Elizabeth Ann D. Tobias, Director for Marketing, PAREF; Cher Anonas, Marketing Consultant, PAREF Rosehill School; Mr. Fernando A. Cruz, Executive Director, PAREF Southridge; Mr. Florentino R. Fernando, Associate Director for Personal Formation, PAREF Northfield 
Photograph, as pictured seated left to right: Dr. Vicente Verallo, Chairman of the Board, PAREF Southcrest; Dr. David A. Burpee, Senior Academic Executive, Global Education Partnerships, Rosedale International Education; Mr. Daniel M. Moran, Chairman of the Board and President, PAREF