Academic integrity is foundational in our education practice and we are continuously working to build an ethical culture of academic integrity throughout the Rosedale Academy Global High School community. In this work, we are focusing on proactive measures that foster a positive education environment throughout our international partner school community, and developing a network of learners and alumni with the competencies and tools to succeed in higher education and beyond.
Principal of Rosedale Academy, Fernando Oliveira, says, "When managed properly, academic integrity resonates through all of our work and supports us at all levels—administrators, teachers, staff, and learners. These practices strengthen our culture, and culture is a message and an attitude that requires long-term investment and cultivation."
During academic integrity month, we explored the ways we currently discuss and manage academic integrity, and built community-wide activities to expand our knowledge and to gain feedback from our 95 international partner schools across 17 countries.
Academic Integrity Webinars
On April 5 and 7, we hosted internal webinar sessions with an attendance requirement for school administrators, heads of academics, and program managers from each of our partner schools. In this session, administrators engaged in discussion on the importance of our collective work in academic integrity—from maintaining a positive and supportive culture at the school-level, to how this work supports our learners across all facets of their education and aspirations, and to also ensure Rosedale is consistently recognized for its unmatched reputation of excellence in academic integrity within the global education ecosystem.
On April 28, our partner schools in China hosted an academic integrity webinar for nearly 300 registrants for an engaging market-specific discussion, with a replay available in Mandarin. This webinar followed Rosedale's February participation in Maintaining a culture of academic integrity and validating student achievement, which was viewed by nearly 400 registrants across 39 countries, and an opportunity for Rosedale to join three global panelists to discuss the current state of academic integrity, frameworks and best practice, and how the sector can collaborate to well-support students and learning institutions.
Culture Building Activities
Rosedale launched its first-ever, student-centred academic integrity awareness campaign to help support students to better understand the value of academic integrity and avoid common problems that may arise in their work. We created and distributed an Academic Integrity Pledge through our Learning Management System (LMS), which both students and staff reviewed when logging on to the LMS during the month of April, and subsequently renewed their shared commitment to academic integrity.
Our Academic Integrity Poster Competition was entered by more than 150 students, and both students and administrators from each of our 95 international partner schools voted for the poster they felt best embraced the fundamental values of academic integrity. The winning poster was submitted by Chioma Somtochukwu Ugwunze of Meadowlands Canadian School in Nigeria, and we applaud Chioma for demonstrating their commitment to academic integrity and for understanding the fundamental values for which it stands. Chioma has earned a certificate of recognition and a congratulatory letter from the Principal's Office.
When asked if she has any academic integrity advice for other Rosedale Academy students, she says, "I will advise them to be original, sincere, responsible, and studious in their academic pursuits. These are qualities that determine good results and rewards for hard work. Be original, acknowledge and be honest."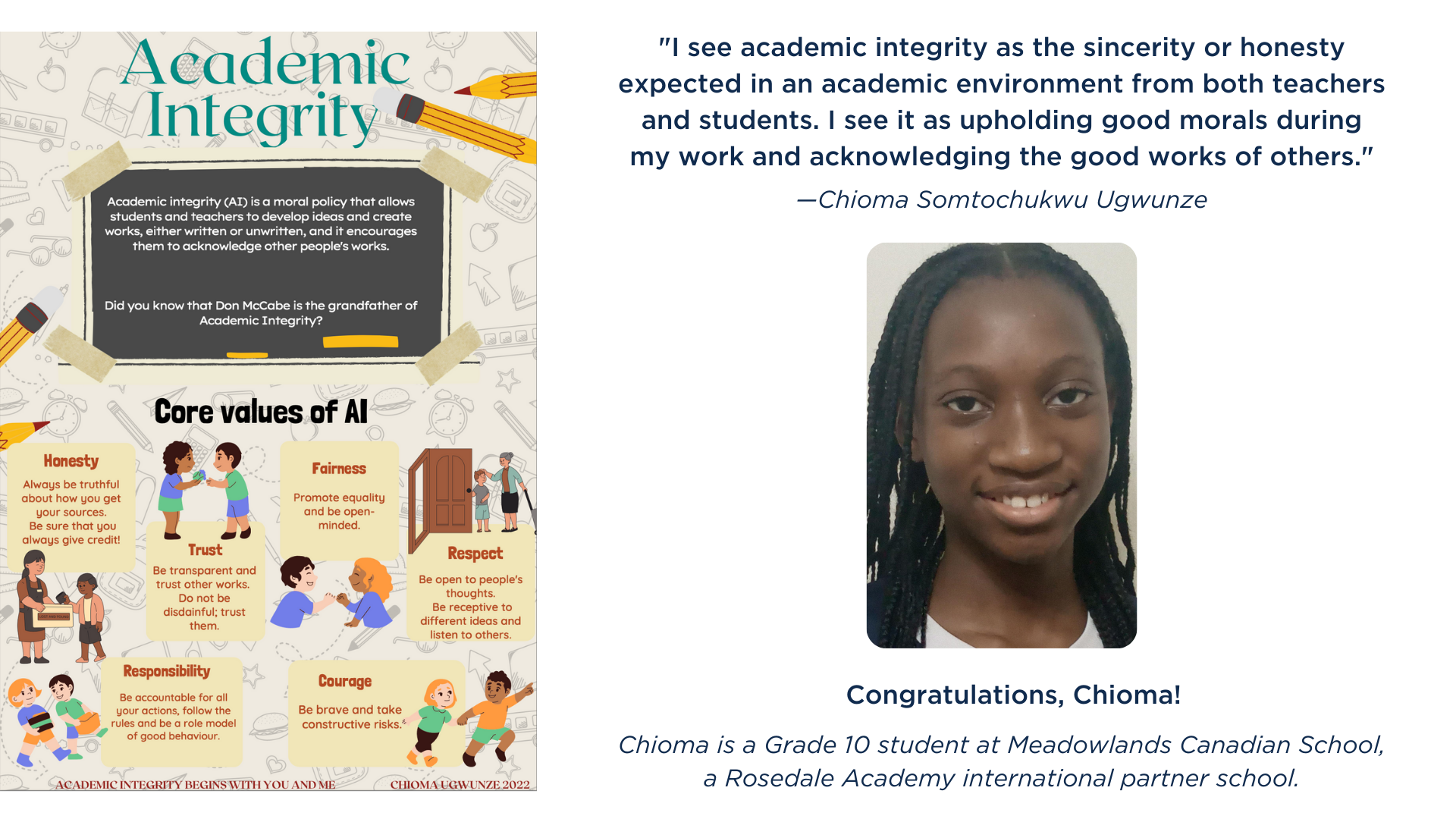 Community Practice Review
Our commitment to quality assurance and operational support furthers our work in academic integrity, and we engaged our international partner schools in a review of practices and tools to better understand how we are supporting a culture of integrity, and what we can learn from our community to improve this work. Some of this work included feedback collection from both administrative and teaching staff, as well as test proctoring and spot-checks, which support our collaborative work in ensuring tests and exams completed by our partner schools are completed in a manner that is ethical, and meets the standards and compliance requirements established by the Ontario Ministry of Education.
"We recognize the link between academic integrity and student success, and marking April as Academic Integrity Month allowed us the opportunity to develop and update resources, deliver training and webinars, and assess the needs of our global high school community," says Leslie Chan, Director of Academic Operations & Student Success.
As a trusted name in global education, maintaining academic integrity is an ethical responsibility and sector commitment. Our participation and collaboration with the International Centre for Academic Integrity will further advance our collective work in maintaining a positive and supportive culture of academic integrity.