We are excited to congratulate Nathalie Rudner on receiving the Youth Science Canada 2022 Distinguished Service Award, which acknowledges the contributions of Canadian educators and volunteers who have made outstanding contributions through innovation, service, and leadership with Youth Science Canada and its programs. Youth Science Canada was established in 1966 to fuel the curiosity of Canadian youth through science, technology, engineering and mathematics (STEM) projects. The organization is the leading youth STEM project organization and works to ensure Canadian youth have the access, resources, capacity and skills to identify and solve problems, and they rely on more than 8,000 dedicated volunteers to engage and mentor half-a-million young learners in project-based science initiatives.  
Nathalie is Rosedale's Director of Academics, and addition to her work leading curriculum development, teacher training and co-curricular projects at Rosedale, she is deeply rooted in her local education community through volunteer work. Nathalie spends her free time with the York Region Science and Technology Fair as the Youth Science Canada regional coordinator for York Region, Ontario, where she builds strategic relationships to expand the fair's capacity, and trains teachers to support and enhance the experiences of each student.  
Of the award, Nathalie says, "To be recognized for something that you're passionate about and that you do because you want to… it's nice." 
From Passion to Purpose
"I've always been interested in science, and I had teachers who really encouraged me in science. And then I got to high school…I did my science fair project, and at that point I started to think that I wanted to pursue science, I wanted to do research," she says.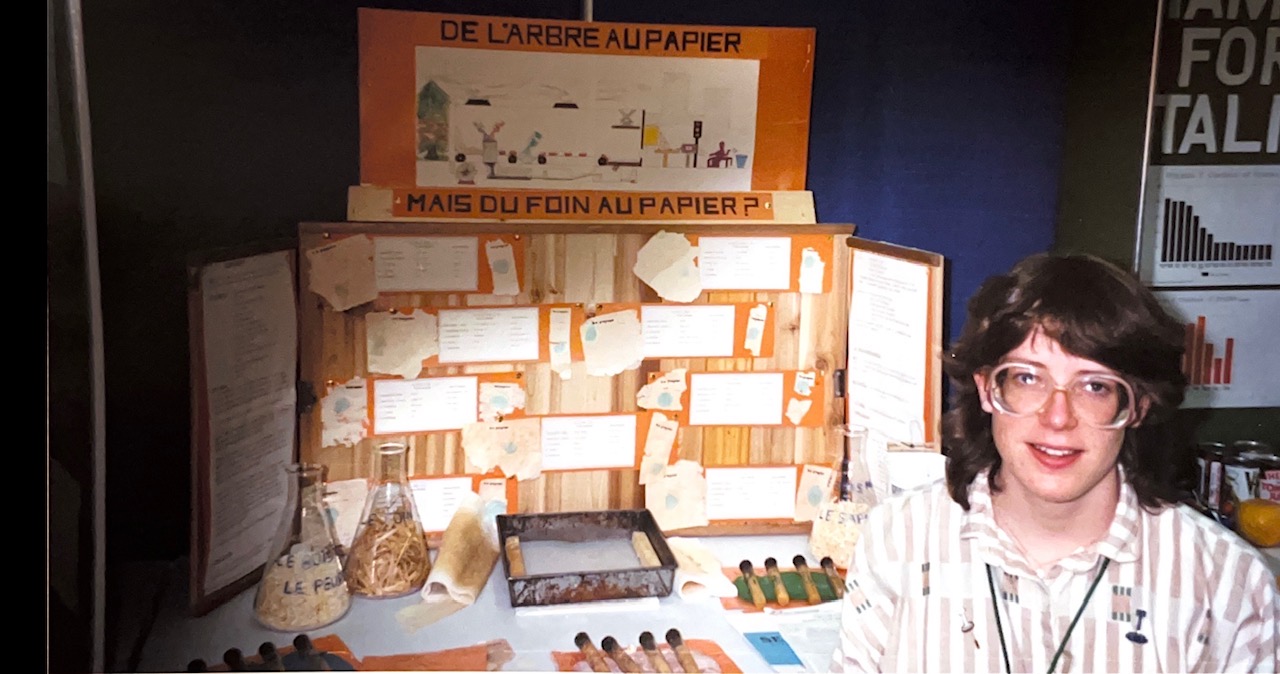 Nathalie in Grade 11 at her first high school science fair
Both of Nathalie's parents were teachers, and she initially decided against teaching to pursue a career in science research. But when she began pursuing a PhD, she realized her passion for science would better serve the world in high school classrooms. With the absence of many female role models in the classroom, and the need for well-rounded science teachers, she realized, "if you want good people in science, you need good people to be passionate about science in high school." And with that, Nathalie followed in the footsteps of her parents by completing an additional degree in education, going on to work in high school classrooms as a science teacher.   
A Commitment to Excellence in Science
Nathalie's passion for science has driven her to many incredible opportunities. She served as President of the Board of Directors of Science Teachers' Association Ontario (STAO) and was a Co-Chair for its annual conference for science educators across Ontario; she was an advisor on the Educator Advisory Panel for Let's Talk Science, a leading organization that prepares Canadian youth for careers in STEM; she was named a Foreign Expert with the Beijing Ministry of Education; and Nathalie was awarded a Certificate of Achievement in the Prime Minister's Awards for Teaching Excellence in Canada.  
Researcher-turned-educator, Nathalie has committed herself to improving the future of science through student engagement. She brings this commitment into her work at Rosedale, and this academic year, Nathalie and her team are leading a project to update and further enhance science curriculum to well-develop our learners to be future-ready global citizens. Drawing on past experiences as an educator, and from her active role with students in the fair, Nathalie is able to develop curricula that are relevant to, and inspiring for, students. 
"I think the challenge of developing any academic program is making sure it actually is making a difference," Nathalie says. "I think it's good to stay grounded, and also helpful to keep in mind what students are capable of." 
Guided by our Transformative Approach to Learning, Rosedale Academy students engage in differentiated learning and are supported to develop the competencies and capacity they require to lead with empathy and cultural awareness, maintain diverse perspectives, and be responsive to the economic and societal challenges of a global society. 
"At Rosedale, we like to adapt our courses. We want to provide differentiated instruction with many ways for all students to access information and learn content. When we design our courses, we keep in mind that any student, regardless of who they are, can be successful and can take on any position in society." 
Foundational to her work is the strong belief that, given the proper resources to develop their skills, students are capable of greatness. She harnesses their potential to create possibilities for them to grow, not only in their academic careers, but to also become their own unique individuals. 
Congratulations to Nathalie on this achievement. Hear more from her on her award with Youth Science Canada and her work at Rosedale: