Education Technology Insights magazine named Rosedale International Education a "Top 10 Education Technology Solutions Provider in Canada" in their competitive annual listing of Canadian organizations at the forefront of providing education technology solutions and positively impacting the education sector. The news was shared in their Canadian issue in late December, where it discusses innovative applications of education technology and how the Canadian education sector is "increasingly adopting tech-enabled immersive learning techniques that change the way students learn, teachers teach, and how learning is assessed and demonstrated." 
This award demonstrates Rosedale's dedication to delivering high-caliber education through an integrated digital learning platform with transformative curriculum and comprehensive quality assurance services. Rosedale International Education operates Rosedale Global High School, which is inspected by the Ontario Ministry of Education in Canada and authorized to grant the Ontario Secondary School Diploma (OSSD), expanding access to leading education that empowers students to better understand and navigate the world around them.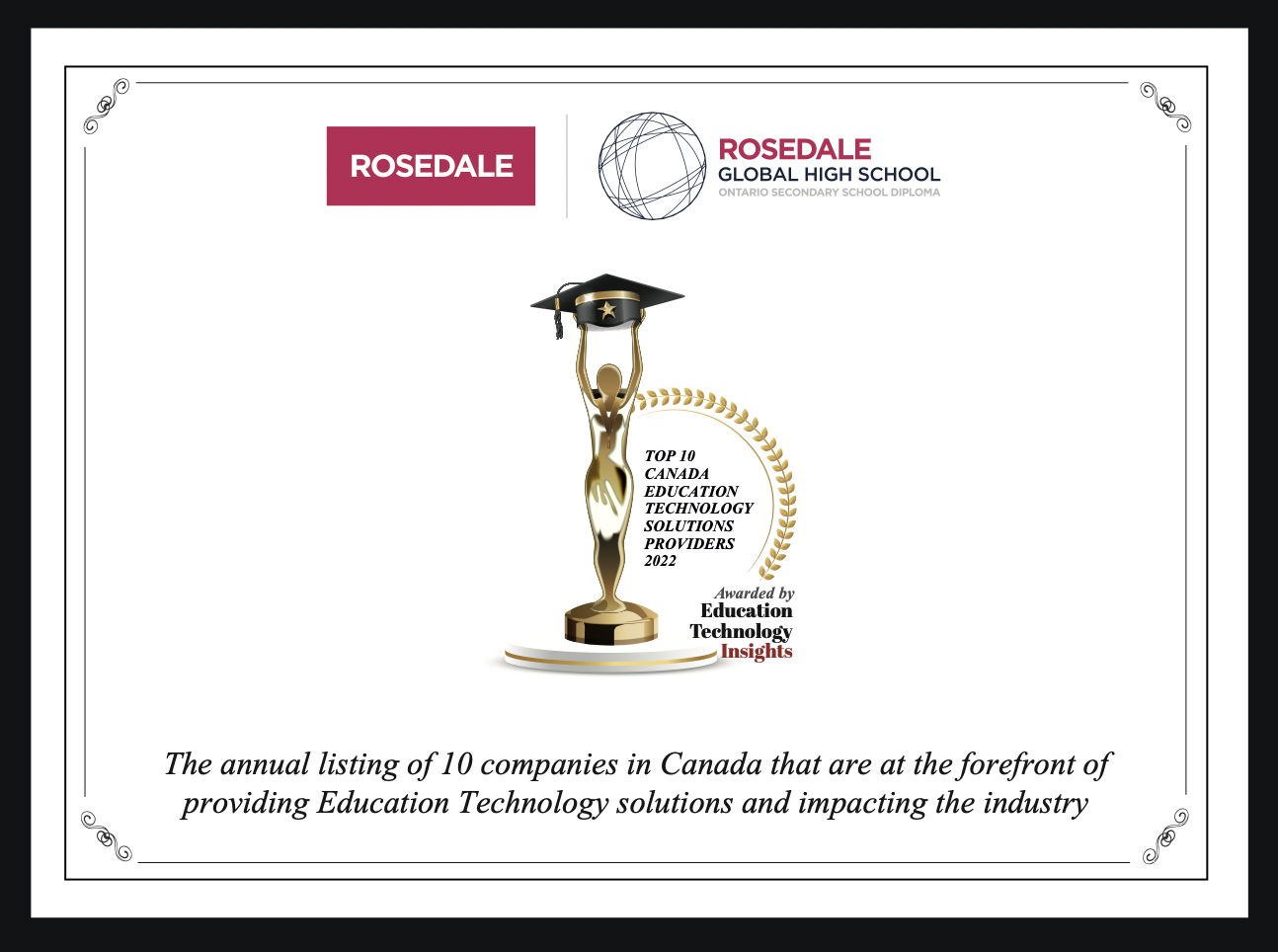 Rosedale's empowering school learning solutions include four key components:   
A digital learning platform with management and analytics; 

Academic assets hosted on the learning platform, including Rosedale OSSD transformative curriculum, student learning content, comprehensive instructional guide for teachers, and supplemental differentiated learning resources; 

A centralized student achievement evaluation mechanism and OSSD administration; 

Program quality assurance services, including academic integrity management, professional teacher development programs, university counselling, student success services, and program implementation support.

 
A leader in transformative education, Rosedale has shifted the landscape of education to invest in the development of collaborative solutions to advance teaching and learning, ultimately allowing the next generation of students to take ownership of their learning and acquire essentials competencies that lead to life-changing learning outcomes—and lifelong success—for our future world. 
Comprehensive teacher development programs include general qualification, advanced qualification, and annual professional development. All training is subject-specific and practitioner-oriented with assessments and improvement feedback to ensure all Rosedale Global High School teachers are fully equipped with the strategies, tools and skills to implement the Transformative Approach to Learning and deliver superior learner experiences and life-changing learning outcomes. 
Through an innovative OSSD curriculum designed on the principles of differentiated instruction, Rosedale provides students with opportunities to explore content in different ways, pursue their own interests, and build their skills in areas of need. To further support students, Rosedale utilizes diverse evaluations throughout courses to gather information on student achievement and provide opportunities for students to demonstrate their learning. 
"As practitioners, we need to rethink today's education and how knowledge and learning can be reimagined in a world of increasing complexity and uncertainty," says Michelle Cui, Founder and CEO of Rosedale International Education.  
Commitment to strategic partnership building within the Rosedale Global High School community—including more than 95 schools in 17 countries and growing—expands the education ecosystem and provides pathways to elite global universities, supporting students as they move through our global world. 
Rosedale OSSD graduates leave their international high schools feeling well-informed about their desired careers and ready for their futures in higher education and beyond. In 2022, 100% of graduates received university offers with 65% to Global Top 100 Universities and 43% to Global Top 50 Universities.  
We are honoured to receive this award and accept the recognition as a testament to our mission of reshaping the future of global education.