Rosedale Global High School emphasizes both academic rigor and the foundational values of academic integrity among our global community of students, teachers, and partner schools. We proactively manage academic integrity with a holistic approach, including: Culture cultivation; technology-enabled administration; up-to-date policies and procedures; and competency development, to educate, prevent and correct any challenges in academic integrity. Rosedale Global High School is a member of the International Center for Academic Integrity, the U.S.-based global leader in advancing academic integrity to promote ethical K-12 and higher education institutions across the world. 
"We are proud to enter our second year of our International Center of Academic Integrity membership, and are committed to continuing our collaborative diligence across the entire Rosedale Global High School partner school network of 17 countries," says Fernando Oliveira, Principal, Rosedale Global High School. "Together, with the ongoing efforts of our global community of students, teachers, and staff, we are promoting fairness and equality in education and creating a level playing field for all our students. 
Culture Cultivation
Academic Integrity Media Design Competition | Rosedale Global High School students participated in the second annual Academic Integrity Month competition. Following the success from last year's poster competition, the 2023 submission requirements expanded to include all forms of media—allowing students the opportunity to demonstrate their understanding and application of academic integrity practices through more diverse and creative methods. This year saw submissions from students in countries including China, Nigeria, Sri Lanka and Madagascar that covered topics such as the six fundamental pillars of academic integrity, its importance in educational settings, and more. Students demonstrated their understanding through many media types including posters, videos, presentations, and websites.  
We are honoured to congratulate Chukwuma Ibelegbu as the 2023 Academic Integrity Media Design Competition winner. His submission included a website outlining academic integrity that was easily accessible to Rosedale Global High School student community and embodied the fundamental values of academic integrity.  
"Academic integrity requires a deep understanding of the values of honesty, trust, fairness, respect, and responsibility. As I continue to learn and embody these principles, I maintain a commitment to upholding the highest standards of academic conduct, both for myself and my peers," he says. "Winning [the Academic Integrity Media Design Competition] has also provided a sense of personal achievement and satisfaction. It has taught me that if I'm hardworking and dedicated, I can do a lot and make a lot of difference in the world." 
Chukwuma is dedicated to maintaining integrity, honesty and fairness in all aspects of his academics—and encourages his peers to do the same. He is also confident in taking advantage of the resources at his disposal and is always prepared to ask for guidance and clarification when unsure about coursework and assignments. Chukwuma believes it is better to ask for help in times of uncertainty than to act dishonestly.  
We are proud to also recognize the remaining Top 5 candidates whose submissions were also highly regarded in the voting process: Chengzong Guo, Jadesola Oluyede, Chioma Somtochukwu Ugwunze, and Yitong Wang. Chioma Somtochukwu Ugwunze was our 2022 Academic Integrity Poster Competition winner!  
Technology-enabled administration
Academic Skills Development Modules hosted on our Learning Management System | As part of our commitment to upholding academic integrity throughout the Rosedale Global High School Community, our award-winning Learning Management System hosts several academic integrity resources that promote relevant, timely and practical application. Rosedale's innovative Academic Skills Development Modules, developed with the collaboration of Ontario Certified Teachers and education experts, includes a comprehensive section that outlines the six fundamentals of academic integrity and includes management strategies at the individual and collaborative levels; Rosedale-specific policy and expectations; and resources for practical use and further understanding. These Modules are available to all Rosedale Global High School students, teachers, and staff as an on-demand resource any time they seek additional guidance. 
Up-to-date policies and procedures
Academic Integrity Officers | This Academic Integrity Month follows the first year of the implementation of Rosedale Global High School Academic Integrity Officers—appointed in all 95 partner schools across 17 countries. Henry Esomchi teaches Canadian and International Politics as part of Rosedale Global High School's Transformative Ontario Secondary School Diploma (OSSD) and is the Academic Integrity Officer with partner, The Regent College, located in Nigeria. Appointees like Henry adopt the crucial responsibility of promoting and guiding best practice within their schools and working collaboratively to prevent, address, and correct any challenges or questions from students and educators.

Henry has implemented procedures that promote best practice, such as: weekly seminars with students designed to provide additional training on specific focus areas that support student need and growth; he discusses the importance of trust, honesty and fairness in academics with parents during all orientation sessions, ensuring proper procedure is recognized and understood by all involved in students' academic journeys; and speaks with his colleagues and their students every Wednesday to provide opportunities to further educate, address and correct any challenges related to academic integrity in the school. It is also widely known that he has an open-door policy when it comes to any questions from students or teachers. 
Competency Development
Professional Development Workshop | On April 27, we welcomed 207 Rosedale Global High School Classroom Teachers and Academic Integrity Officers from 14 countries to the professional development workshop, Upholding Academic Integrity in the Classroom – Best Practices for Teachers. The Rosedale-specific training was designed to provide practical information on how educators can better support students to ensure that they are well-prepared for assignments and tests while maintaining academic honesty. Participants completed the webinar with a deeper comprehension of academic integrity and methods of promoting its values in classrooms around the world.  
Trainers strengthened participants' understanding of Rosedale Global High School's academic integrity policy and practice through five main topics: Rosedale data analysis of academic integrity violations; how to use Rosedale's Academic Skill Development Modules; case scenario discussions about Rosedale assessments; roles and responsibilities of classroom teachers and academic integrity officers; and updated proctoring guidelines to help prevent misconduct.  
As part of our commitment to professional development, we welcome feedback from our Classroom Teachers and Academic Integrity Officers to assess effectiveness. When asked about how well the workshop addressed relevant challenges in upholding academic integrity and confidence levels in facing those challenges post-training, participants rated 89% and 90% respectively. Feedback included key takeaways: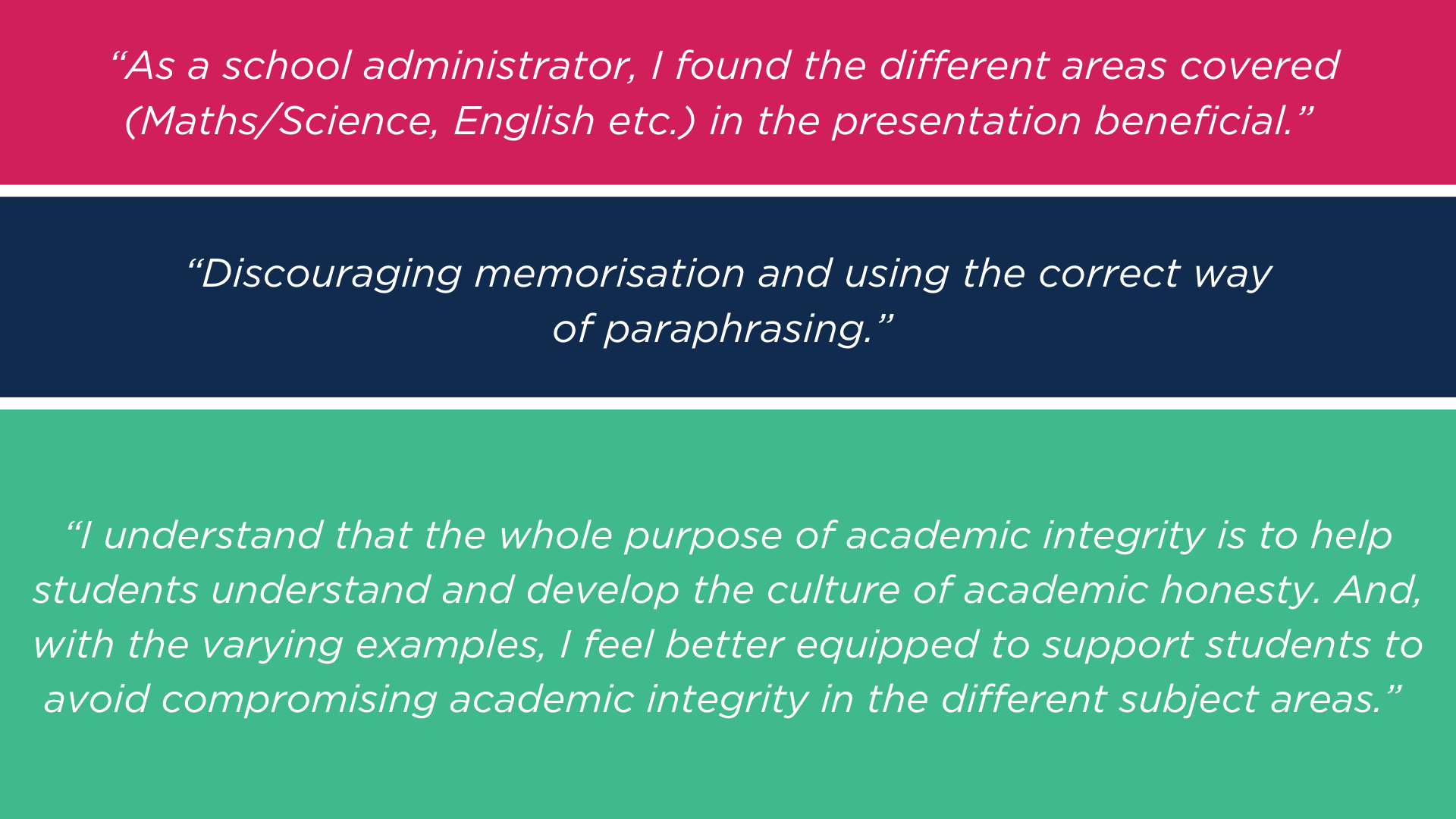 Webinar with University Expert | Amanda McKenzie, Director, Quality Assurance (Academic Programs) at the University of Waterloo and Co-Founder and facilitator of the International Center for Academic Integrity (ICAI) Canadian Consortium, joined Rosedale's Nathalie Rudner, Director of Academics, and Danielle Benoit, University and Careers Counsellor, for the webinar: Navigating Academic Integrity at University: Developing Skills to Succeed on April 18. Amanda, Nathalie and Danielle guided Rosedale students, educators, and staff from Brazil, Nigeria, Canada, Sri Lanka, and Turkey through resources that clearly define academic integrity challenges specific to the international student university experience and provide methods for building competencies to overcome them in both educational and workplace settings.